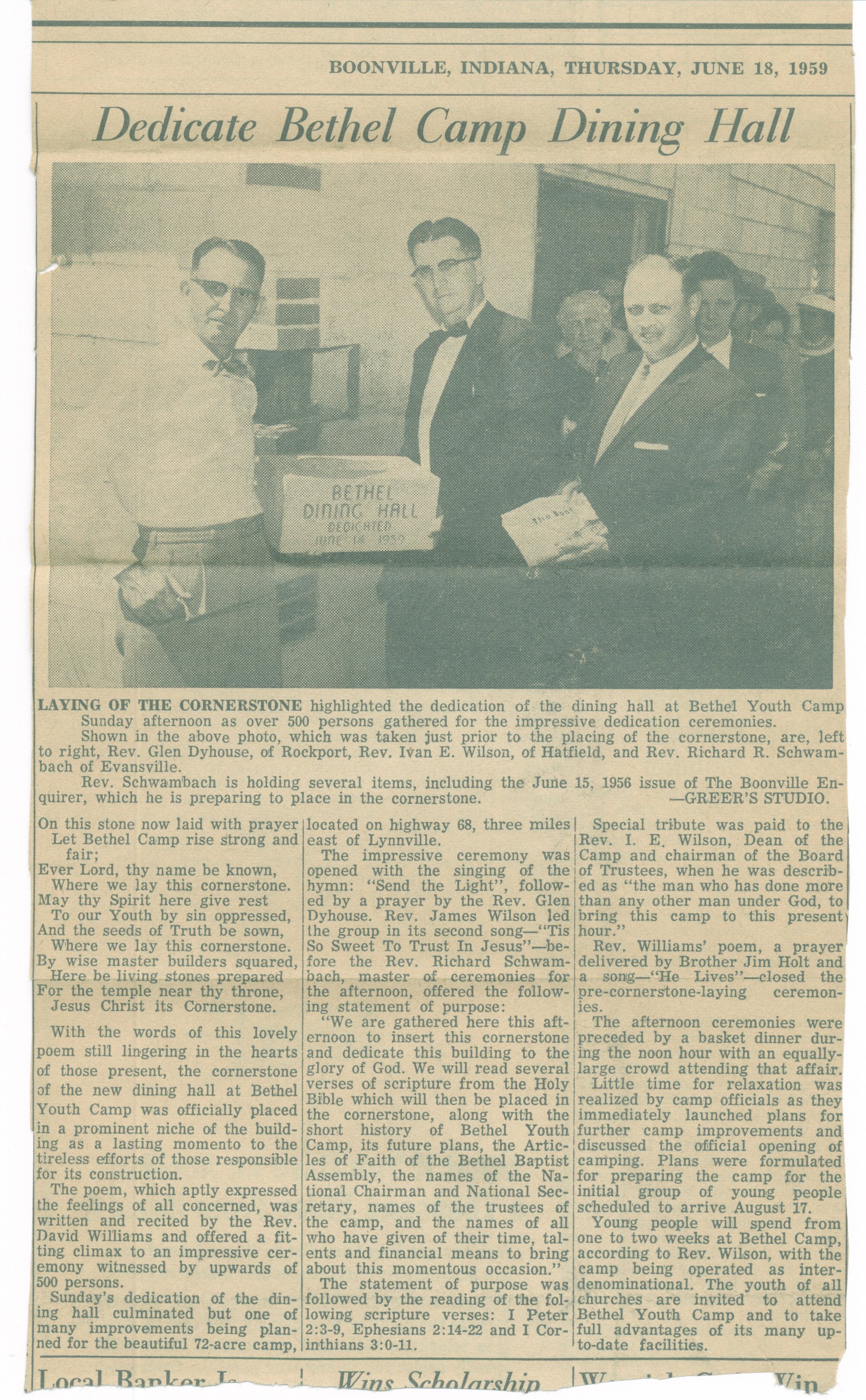 Richard Robert 'RR' Schwambach
Evansville, Ind.

Pastor Richard Robert "RR" Schwambach went to be with the LORD at 7:55 a.m. Saturday, June 21, 2014, at Hamilton Pointe Health and Rehabilitation, Newburgh, IN.
Pastor "RR", as he was affectionately called, was born June 9, 1926, in Evansville, Indiana, the son of Richard and Blanche (Griffith) Schwambach. He attended Central High School and the University of Evansville, where he was President of Alpha Phi Omega. He received his Bachelors from Burton College and Seminary and his Doctorate of Divinity from Evangelical Seminary.
Pastor RR served as pastor of three churches on the Mount Vernon North Circuit: Welborn, Springfield and Olive Chapel. He was pastor of Epworth Methodist Church from 1945 to 1947. He served as Associate Pastor of Bethel Church in 1947 and became Pastor in 1951, serving until 1981, when his son Stephen succeeded him as Pastor. He continued to serve full time as Senior Pastor until his retirement, in 1991. He served as Bethel's Pastor Emeritus for the remainder of his life, caring especially for the beloved members of his Bible Fellowship Hour class.
In 1955 he founded the nation's second Dial-a-Prayer ministry, which became the longest-running in history, continuing today: (812) 473-PRAY. In 1961, he was voted "My Favorite Clergyman" by Evansville Sunday Courier and Press readers and was awarded with his first-ever trip to the Holy Land. In 1962, he founded "Television Church of the Air," which continued over the next three decades.
When city fathers needed Bethel's downtown church location at 7th and Main to build the Civic Center, he led the congregation to its present location on Lincoln Avenue. In 1975, he founded Evansville Christian School, now a leading independent educational institute in the nation, whose students consistently rank in the top 5% of Indiana schools. When a church member donated the St. Clair Monastery to Bethel in the mid-1980s, Pastor RR personally led a work crew of volunteers every Saturday for the next four years to help transform it into the Evansville Christian Life Center - now a major independent ministry hub serving the inner city.
Pastor Schwambach was involved in numerous community organizations throughout his life. He was a Star Boy Scout and President of the Southwest Indiana Methodist Youth Fellowship. He was a member of the Downtown Civitan Club and Chaplain of the Civitan Midwest District. He was co-founder and trustee of Bethel Youth Camp and an Elder in the Bethel Ministerial Association. He was a member of the Global Network of Christian Ministries and the National Association of Evangelicals. Mayor Frank McDonald declared June 9, 1991, "RR Schwambach Day" in the City of Evansville. That same year Governor Evan Bayh honored him with the "Distinguished Hoosier" Award.
He is survived by his beloved wife of 66 years, Geneva Schwambach; his son and daughter-in-law Stephen and Judith Schwambach; his son and daughter-in-law David and Kris Schwambach and his daughter and son-in-law Evangeline and Larry Thompson, all of Evansville; his brother and sister-in-law Paul and Delores Schwambach, of Ocala, Florida; 10 grandchildren and 19 great-grandchildren. The family is especially grateful for the wonderful care given to Pastor RR by the Memory Care staff of Hamilton Pointe and Gentiva Hospice Care.