| | |
| --- | --- |
| | Bethel Foreign Missions Foundation |
The Bethel Foreign Mission Foundation began in 1960 as the David Merwin Family was getting ready to go to Korea for the first time. The Pastors of the Bethel Ministerial Association felt the need of having a central point to forward funds to the Merwins and other missionaries who were going to foreign soil. As the Lord led, others from the Bethel churches were called to areas all over the world to spread the good news of the Gospel to many who had never heard. Soon, this small ministerial alliance was supporting missionaries in nearly every corner of the globe.
Rev. Don Matthews was the first secretary and helped to get Bethel Foreign Missionary Foundation off and going to a good start. He kept in contact with the missionaries and sent the funds that were designated to them each month.
Rev. David Williams assumed the responsibilities after Rev. Don Matthews, and held this task very dear to his heart until his death. He was known as a friend to missions and did all he could to further the cause of World Missions. Under his leadership, the number of missionaries and the amount of funds sent to the field continued to increase.
After the untimely death of Rev. Williams, Rev. Merwyn Masters took the responsibility of the Bethel Foreign Mission Foundation and did an outstanding job for the cause of Christ. Then, the Missionary Secretary position was filled by former missionary to Korea, Rev. David Merwin. In July of 1991, Rev. Merwin moved to the state of Oregon to take a position in a local church to coordinate their missions program. Rev. Merwyn Masters filled the position again until November of 1992, at which time Rev. Joseph Greene filled the position of Missionary Secretary.
As God has given increase, our Bethel churches have supported hundreds of missionaries over the years with hundreds of thousands of dollars and with the lives of its young people. The witness of lives affected by its missionaries will only be fully known in heaven. However, as many have been faithful to the call of God on their lives, even on occasion to their deaths, God has brought forth the fruit of their labors to His glory and His kingdom. The current list of ministries and missionaries supported by Bethel Ministerial Association is listed below:
---
---
Jerry and Nola Witt started a mission in the mountains of Durango, Mexico in the early 60s. Jerry would fly his Cessna aircraft into the villages of the mountains around Durango and deliver the gospel to those who had never heard the Word. He literally gave his life delivering the Word of life to the Indians of central Mexico when his plane crashed in 1965. Shortly after his death, Frank Warren married Nola and fathered her three boys and had twins of their own, while continuing the work begun by her and Jerry. Frank went home to be with the Lord ten years ago and now our beloved Sister Nola has joined him. The members of Nola's family continue the work of many ministries there in Durango. After over 40 years, the work continues to thrive with a Bible School, Youth Camp programs and ministries in twenty churches throughout Mexico. Naki Theo, Sister Nola's son-in=law, now heads up the ministry, Witt-Warren Missionary Foundation. Please visit their web site at

www.nolawarren.jimdo.com

or contact Theo via e-mail at

nakiynolita@yahoo.com



---
Jerry and Sandy Owens, Guatemala City, Guatemala and Quito, Ecuador

Jerry and Sandy began a work in Guatemala City in 1970 when they opened the New Life Evangelistic Center. The Center was a hub to reach thousands of souls through relevant training tools such as Christian literature, Christian films and videos, as well as preaching and teaching the Word of God in seminars and conferences. In 1987 the New Life Evangelistic Center was opened in Quito, Ecuador with the same vision. In Ecuador, the ministry also acts as a distributor and supplier to Ecuadorian Christian outlets as well as a major supplier of Sunday School material to local churches. This ministry is reaching the nations through Pastors/Leaders training and teaching seminars. It reaches well into Columbia and Peru with its widespread evangelistic efforts. You may contact Jerry and Sandy via e-mail at

jerow@att.net Check out Jerry preaching at Lincoln, IL in August by clicking here. See the Owens latest newsletter here.



---
"Brother Joe" as he is so lovingly known by all who meet him is a retired pastor (and former two-term Mayor of Rockport, Indiana) who doesn't quite know the meaning of the word "retire." Joe continues to serve the Lord actively by being the Praise and Worship leader at Bethel Christian Center in Reo, Indiana. He takes numerous trips throughout the year to Haiti under the auspices of an independent ministry to minister to the nationals of Haiti. He builds, he fixes, he does just about everything anyone needs to meet the needs of Haitians, often at personal risk to his safety. Joe reaches the people of Haiti with his love and skills built through many years of experience to build churches, repair vehicles, construct roads and a myriad of other activities. His mission is definitely a sacrifice of love for the Lord and the people of Haiti. Contact Brother Joe at

jgreene435@psci.net

and check out the mission work he does at

www.missionsoflove.org

Click here: to see Brother Joe speak at the 2015 Fall BMA Conference about his mission work in Haiti.




---
Maurine Sweet, Culiacan, Mexico

Maurine has spent her entire adult life, since graduating from International Bible College in the 1970s, building and ministering to orphanage children in Culiacan, Mexico. Her dedicated love has seen countless children's needs met and won to the Kingdom of God. You can contact Maureen at

serve@prodigy.net.mx Click here to see Maurine's latest newsletter



---
---
Ron & Christi have spent all of their adult lives ministering in foreign countries like England, the continent of Africa and next to India. They work through ShepherdShaper ministries and most recently at the Love Botswana Outreach Mission in Maun. Their ministry work has taken them to Egypt, Peru, Ecuador and South Dakota, and now they are focusing their efforts in Botswana.

Contact them and visit their website by going to www.ShepherdShapers.com.



---
---
Garry and Becky are serving the Lord with Southwest Navajo Indians in New Mexico. You can follow their work on the facebook site at:

by clicking here.



---
Stephanie (formerly Merwin) Fast was an abandoned orphan herself, lost in South Korea and found and adopted by one of our first BMA Missionaries, David and Judy Merwin during their mission work in South Korea. Now, Stephanie, a mother and grandaughter, living in Oregon, is an internationally recognized speaker and outspoken advocate for world-wide orphan needs as well as an accomplished writer. Please check out her ministry at:

www.stephaniefast.org



---
Lester and Peggy Seiler have served as missionary Bible teachers and mentoring national leaders since 1971. You can find out more about their missionary work by writing them at Worldwide Missionary Evangelism, Lester Seiler, Box 3262, Visalia, CA 93278 or email them at

lpseiler@wmeus.com

or check out their facebook page at:

by clicking here.



---
A.M. Sambo, Sr., Nigeria, Africa

Brother Sambo has been pastoring the work in Nigeria for sixty years. He is a native Nigerian who was introduced to the Bethel Brethren in the 1970s. As Pastor Don Matthews, Indianapolis hosted him there, Brother Sambo returned to Nigeria and named the ministry there Bethel Memorial Church of Nigeria. In the photo to the left, you can see him extending the warm hand of fellowship to new pastor, Brother Udoh.

Bethel Memorial Church of Nigeria

samboabethel@yahoo.com



---
---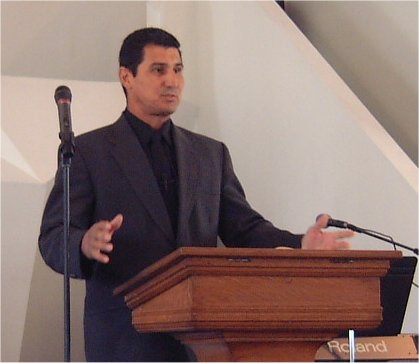 Jerry Rodriguez, Zapata, Texas, FRONTLINE MISSIONS
Jerry and Connie Rodriguez have served as directors of Front Line Missions since the death of founder Jerry McSorerly in 2005. The work started as a missionary endeavor to Mexico, and wound up branching out to also include works in India and in the small border town of Zapata, Texas, along with other efforts in China and the Philippines. Works include Missions, Christian Schools, Orphanages, and Feeding Programs. You can find out more about their missionary work by writing them at Front Line Missions, P.O. Box 577, Zapata, Texas 78076 or email them at jerry.rodriguez@flmcentral.com or check out their website at: www.flmcentral.com by clicking here.
---
Brother Peter Chun, China
---
Marcel Louis, Haiti
---
Brother Napo, Haiti
---
---
---
www.watsonline.org
---
---
---
Churches and Ministries - Missions - Youth Camp - Conferences - BPH - Leadership - Doctrine - History - Doc Varnell
---
Web Site Designed by Rev Dave Matthews. To contact him, send an e-mail to:
DaveM3333@aol.com

&nbsp