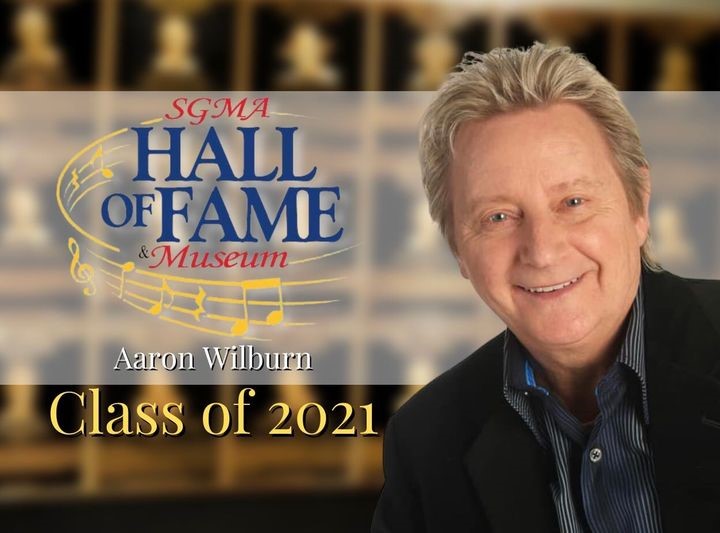 The third member of the SGMA Hall of Fame's "Class of 2021" was announced tonight at Bill Bailey's "Jackson Sings the Gospel" concert. Singer, songwriter and comedian, Aaron Wilburn will be inducted posthumously at the National Quartet Convention on Tuesday, September 28, 2021. Aaron's son, Jim and grandson, Zak, were present to hear SGMA Vice President Gary Casto make the announcement on what would have been Mr. Wilburn's 71st birthday.

Mr. Wilburn began his music career in 1971 playing rhythm guitar, singing guest solos and telling funny stories as a band member of The Happy Goodmans. His solo career began in the mid-1970s and he would go on to write many popular songs, including "Four Days Late," which was named "Song of the Decade 2001-2010" by Singing News magazine. He was also a frequent guest on the "Bill Gaither Homecoming" concerts and videos. He left us for his heavenly home on November 27, 2020. With his induction, Aaron Wilburn will join fellow alumni of the Happy Goodmans - Howard, Vestal, Sam, Rusty and Eddie Crook – as a member of the Southern Gospel Music Association Hall of Fame.

Many of our BMA members will remember that Aaron started out in Rockport, Indiana, attended our church there and visited and sang at almost all of our member churches to singing and ministering with his very unique humor and wit. He will be genuinely missed.